The Poweradd Pilot Pro2 23000mAh/85Wh is a different from most power banks, it's both an replacement external battery for your laptop and a power bank.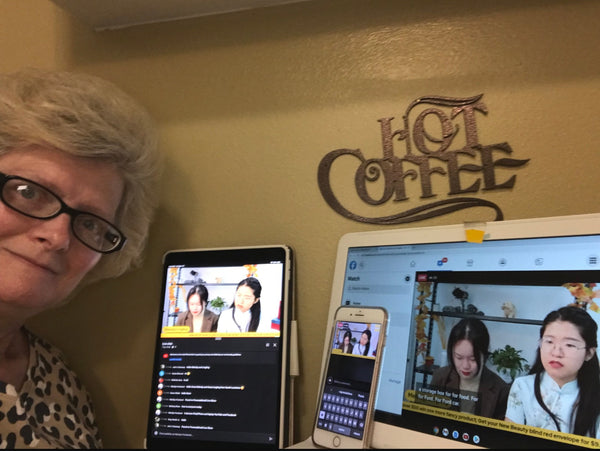 To My Rescue! Pilot Pro2 Powered Up My Laptop Quickly
I watch the Poweraddmall Live Shows on all 3 of my devices, my laptop, my iPhoneand my iPad. Last week, my laptop battery went out during the Poweraddmall Live Show. Thank goodness, Pilot Pro2 was charged and ready to go. The Pilot Pro2 powered up my laptop quickly.
Gigantic Capacity and Circuit Protection 
The Pilot Pro2 portable power bank is 23000mAh/85Wh mobile supply, the lithium polymer battery ensures quality. This power bank is powerful enough to charge my Acer Chromebook 15 over 1 time, or charge my IPhone 7Plus 4 times. The Pilot Pro2 features the integrated circuit protection to protect your devices from over voltage, overheating and short circuiting. The Poweradd Pilot Pro2 is a different from most power banks, it's both an replacement external battery for your laptop and a phone charger. It's includes two USB ports, a barrel connector, and comes with an assortment of 10 power connectors(adapters) that covers most laptop brands.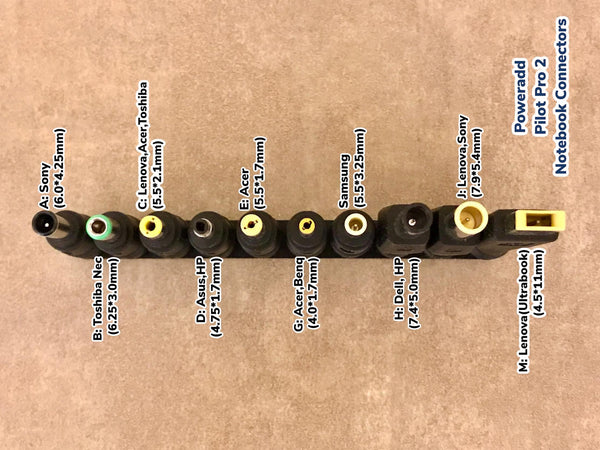 Ports and Adapters: Compatible With Most Laptop Brands 
The Pilot Pro2 has two full sized USB ports, one barrel connector input, and one barrel connector output. Both USB ports can put out 1 or 2.5A the barrel connector can output 5, 9, 12, 16, 19 and 20V. The Pilot Pro2 comes with a variety of 10 laptop connector (adapter)tips. The laptop connectors(adapters) included are compatible with Acer, Sony, Lenovo, HP, Samsung, Toshiba, Asus and Dell laptops. The external power bank is compatible with a variety devices, such as the laptops, MacBook 13, DELL XPS 13, Huawei MateBook Pro,Samsung,Notebook9,smartphones such as iPhone 12 /p ,12 Mini, Samsung Galaxy ; Tablets, all the eligible devices, including smartwatches, Bluetooth earphones/speakers, etc., can be charged quickly.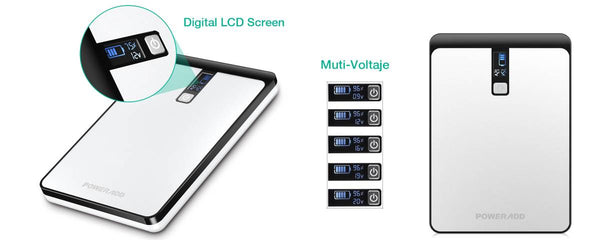 Modern Design and Compact 
The Pilot Pro2 23000mAh/85Wh has a sweet three tone design, featuring the black and the matte silver on top and the white on the bottom. The power bank is 7.29 inches X 4.88 inches X 0.77 inches and only weighs 1.32 lbs. The power bank can easily fit in a book sack or briefcase. The built-in bright LED digital display shows the current battery level and voltage. You can check the remaining battery percentage, while charging the portable charger on a digital LED indicator. This makes it easier to monitor your power bank smartly!
Quick and Easy Setup 
The initial setup was easy. Take the Pilot Pro2 out of the box, plug it into power, and your ready to go. My Pilot Pro2 arrived with 20% battery charge on it. I recommend you fully charge your Pilot Pro2 before using it, which only took me 2 1/2 hours. The most important feature is that you can use the Pilot Pro2 while its own internal battery is charging. If you want to use it to power your laptop, setup is a little bit harder. First , you need to plug the barrel connector into the jack, then find the laptop adaptor that fits your laptop, and plug it in. Then tap the power button, select output voltage and then plug in your laptop.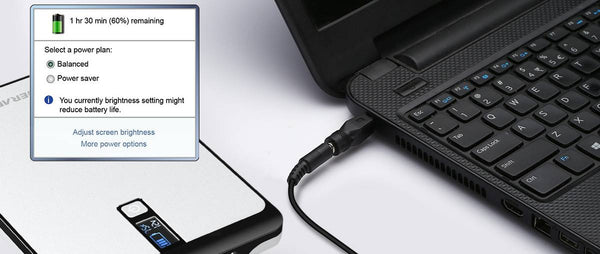 Emergency Storm Preparation Poweradd Pilot Pro2 
My newest addition to my Emergency Storm Preparation Box is the Poweradd Pilot Pro2! Although, Louisiana has Hurricane Season, everyone should be prepared bad weather too! Everyone Stay Safe! My Emergency Storm Preparation Box consists of Poweradd Pilot Pro2 Portable Power Bank,rechargeable batteries, power stations, flashlights , radios, solar powered devices, USB Fans, mini refrigerator, Selfie light , book light, candles, non perishable food, and water. My Support Power Your Life with Poweradd! A Brand You Can Depend On! I Do! Marilyn Fontenot
Poweradd has been a leading electronic manufacturer since 2010.
The company is dedicated to bringing its consumers the latest electronic products and accessories. Poweradd offers user friendly power, external batteries, usb wall adapters, cables, cases, headphones, speakers etc. Poweradd has the reputation for fastest and finest quality power banks and external batteries. Their customer service team is excellent!