Being one of the world's most promising, booming marketplaces currently for retail products globally, Amazon has all the way massively showcased a myriad of sellers that provides all sorts of items to meet the basic needs of prospective customers. For the hot-selling category, Cell Phone & Accessories, portable power banks undoubtely take up a large percentage of its popularity. This blog is going to post a few power banks of best quality with detailed reviews technologically.
Portable power banks come in a variety of types, from extremely thin, slim and light ones to those with multiple USB ports or different types of USBs that allow you to charge specific smartphones and tablets more conveniently. When you try to get yourself a most helpful power bank online, here are a few basic features to look for.
In the first place, having a stylish, vivid design on the power bank's surface can be one of the best ways to spice up your usage of the mobile charging device. Even though the housing of a power bank is not as important as the battery inside, a better polished surface gives a more charming look and allows you to hold in hand more comfortably.
Secondly, when it comes to the battery inside, it will dominantly define whether a power bank is good or not in some sense. Because the built-in battery is the hardcore factor that stores electricity, making the the portable charger as a bank for power deposit. Qulity chargers mostly use first-rate Lithium battery cells owing to the dependable efficiency and safety. The mAh rating is vital to a power bank's charging speed. If you expect a power bank to charge your devices at the very least normally fast, 8000mAh is the minimum requirement for the battery capacity rating. Along with the insanely quick development of power banks, you are able to buy a 10000mAh power bank, 12000mAh, 15000mAh or even a 20000mAh power bank at an affordable price.
In addition, the output port design is also a necessary feature for you to focus on. Usually, a plain power bank has two USB ports, namely dual USB design, to charge two devices simultaneously. However, the latest power banks can do more than that. In lieu of standard Micro USB ports, new power banks include convenient USB-C input which is ideal for USB Type-C devices.
Check out one of the most typical multifunctional power banks on the horizon. It will absolutely serve its purposes well, highlighting all the benefits you deserve from it.
1. Poweradd Virgo 10000mAh Power Bank Portable Charger (USB-C Input & Output 5V/3A) with Digital LED Display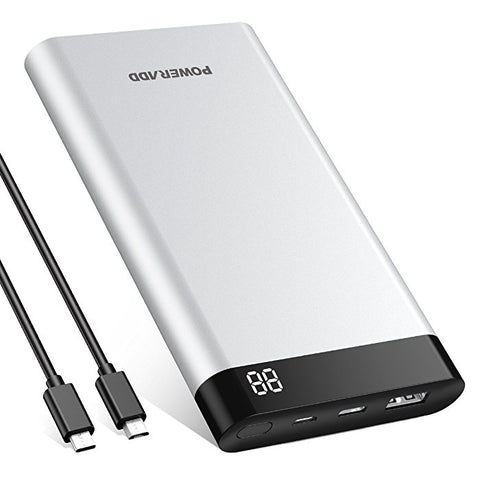 High Capacity Power Bank
Poweradd Virgo 10000 mAh USB battery pack is built with a powerful 10000mAh battery inside. The battery is able to hold massive battery power. When the power bank is fully charged, it's able to offer 4 charges to iPhone 6, or a 2 and a half charges to a Samsung Galaxy s6, or at least one charge to a large-capacity device like iPad Mini. Besides, the power bank has unique digital LED display to show you the battery charging level clearly.
Intelligent Protection
Poweradd Virgo USB-C power bank is constructed with high-tech grade A high-energy lithium polymer batteries which are by far more durable than ordinary ones. The advanced li-polymer battery cells and built-in micro chips can totally cure malfunctioning problems, such as overcharge, overdischarge, overheating and short circuit. Your worry-free use and the long life span of both your devices and the battery pack will be completely guaranteed due to reliable intelligent protection.
Convenient USB Type C External Battery Pack:
The user-friendly USB-C port allows you to charge your USB-C devices more easily. The power bank comes with a USB-C cable and a Micro USB cable for easy, convenient charging.
2. USB C Power Bank RAVPower 20100 Portable Charger with QC 3.0 Qualcomm Quick Charge 3.0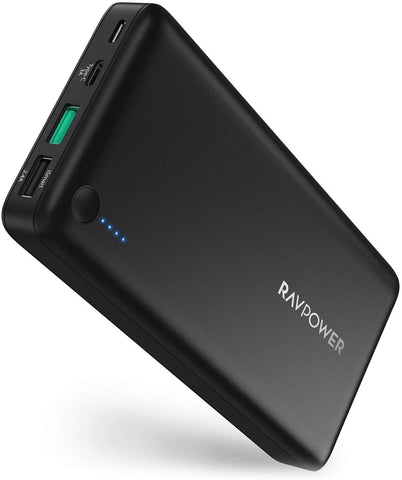 Upgraded Charging Technology
This high capacity 20100mAh power bank is able to charge your smartphone to 80% battery level in only 35 minutes. The impressive charging ability by using Qualcomm Quick Charge 3.0 Technology can offer you 15% greater charging efficiency compared to Quick Charge 2.0.
Ultra High Capacity
The portable charger features a sensational large battery capacity 20100mAh, which is capable of fulfilling up to almost 8 charges for an iPhone 6 or iPhone 6s, optionally over 5 charges for a Samsung Galaxy S6.
QC 3.0 Input and Type-C Input
You can't imagine how convenient to have a QC 3.0 input port and a USB Type C input port on a portable power bank like this. For example, it's able to charge your 12 inch Apple Macbook or Chromebook Pixel without the effort.
3. Aibocn Portable Power Bank 20000mAh External Battery Charger with Flashlight
Compact and Light Design
This 20000mAh portable power bank has a compact design. The beautifully built power bank measures only 6.44*3.16*0.98 inches. This small size fits in the palm perfectly. Instead of a heavy, bulky external battery pack, it's a thin, lightweight power bank you can take with you wherever you go.
Advanced Protection System
This 20000mAh external battery pack charges devices fast, in the meantime, it has intelligent protection to keep charging safe and smooth. The integrated protection system will effectively guard against overload, over heating, over discharge, short-circuit and unstable voltage or current. When it detects an issue during charge, it will automatically shut down for self protection.
Bright LED Flashlight
The useful power bank with flashlight stores enough power to support the bright LED flashlight for you when necessary. It's easy to use the flashlight. All that you need to do is to press the ON/OFF button twice to switch it on to light up the dark place. When you don't need it, press it twice again to swith it off.
4. Anker PowerCore 26800 Portable Charger, 26800mAh External Battery with Dual Input Port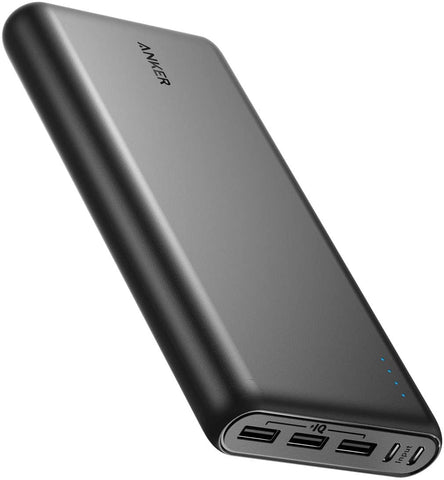 PowerIQ and VoltageBoost Technology
Anker has some kiss-ass advanced technologies in power bank's charging. A lot of Anker fans have been quite into the famous PowerIQ and VoltageBoost technologies, and they love to have a high capacity power bank like this one. The charger works perfectly for all non-Quick Charge devices, including all Apple phones and tablets, and most Android devices.
Solidly-Built Power Bank
This portable charger has a robust build which is made of extremely durable material for the housing. The finely built and finished power bank lasts long for your daily use.
Quality Battery with Protection
Anker uses highly protective and efficient built-in battery for this portable charger. The premium LG battery cells have great longevity and serves its purpose wonderfully with perfect protection against overload, overheat, short-circuit and surges.
5. Poweradd Pilot 2GS 10,000mAh External Battery Power Bank 3.4A with Smart Charge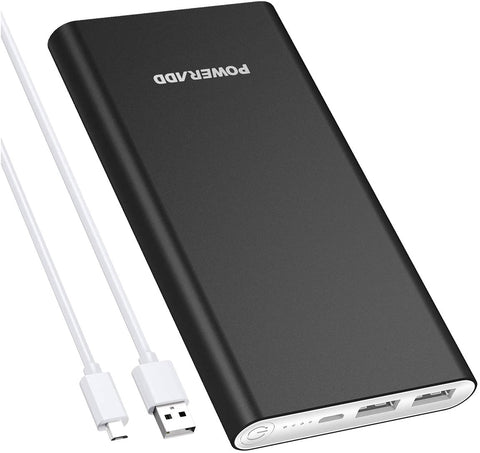 Sturdy 10000mAh Power Bank
The power bank has an eye-catching, splendid bright red color. Looks stylish and works brilliantly. The sturdy, rigid and smooth aviation aluminum stands tear and wear. One more attraction is its slim size 137 x 73 x 13 mm, with a 0.26 kg weight, which enables users to carry or put in pockets rather easily.
Automatic Detection for Charging  
This is an upgraded version compared to its previous model. Poweradd Pilot 2GS 10000mAh power bank can automatically detect a certain USB device, like a smartphone, and give the fastest charging speed possibly, up to 2.4A mostly when it's connected. The large capacity charger can provide 4 solid charges to an iPhone 6s.
Grade A+ Superior Lithium Polymer Battery
Thanks to the first-class Lithium Polymer battery cell the power bank uses, it works normally to charge your devices without issues. The full protection safeguards the power bank and your devices from overload, short-circuit, over heat etc.