Looking for the best charging stands and docks for your Apple Watch? Check out our recommendations!
Using a dedicated
charging dock c
ould be one of the best ways to charge your Apple Watch. And usually most charging docks on the market are designed to be so widely compatible with almost all Apple Watch models. They call it a universal charging dock that works flawlessly for Apple Watch, Apple Watch Nike+, Apple Watch Hermès, Apple Watch Edition, Series 1, 2 and 3.
A nicely made charging dock is a perfect stand or holder for your Apple Watch to get charged in a secure and stable manner. And due to the improvement in performance, new types of charging docks are able to charge your Apple Watch within a very short time. There are naturally tons of companies out there with excellent
Apple Watch charging stands
that you admire their design, efficiency and safety.
The best ones usually have a durable Apple Watch magnetic charging cable that are mostly designed to be automatically detachable so that you can carry the charging dock conveniently for travelling or business trips.
Let's take a close look the five top rated Apple Watch charging stands and docks in 2017.
1.
Poweradd Apple Watch Stand, $33.99
This Poweradd Brand Apple Watch Stand is an official Apple MFi Certified product that enjoys an over 4.5-star review rating. It's so popular because it has some impressive features that people love. The charging stand has 90°and 37°adjustable view angles, an anti-skid desgin to hold Apple watch stably, and an adjustable Apple watch magnetic charging cable. It charges Apple watch stably and gracefully and is a great decoration for your household.
2.
ZIKU 2 in 1 Aluminum Charging Stand Dock Station for Apple Watch, $29.88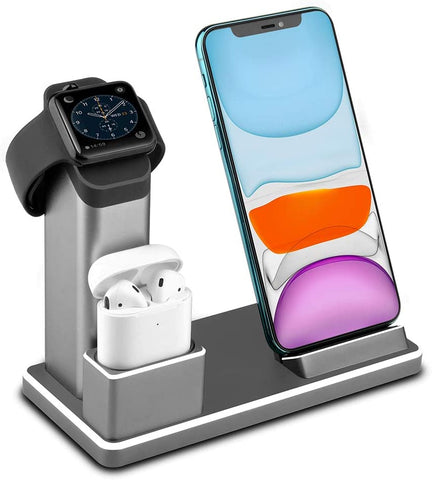 This ZIKU charging dock for Apple Watch is widely compatible with all versiona of the Apple Watch series 2 and series 1. Besides, it's also compatible with iPhone 7, iPhone 7 Plus, SE, 5, 5C, 6, 6 Plus etc. It's super strong and robust because of the durable aluminum material. But it requires an extra Apple lightning cable to make it work.
3.
Bestand 2 in 1 Apple iWatch Charging Stand Holder, $17.98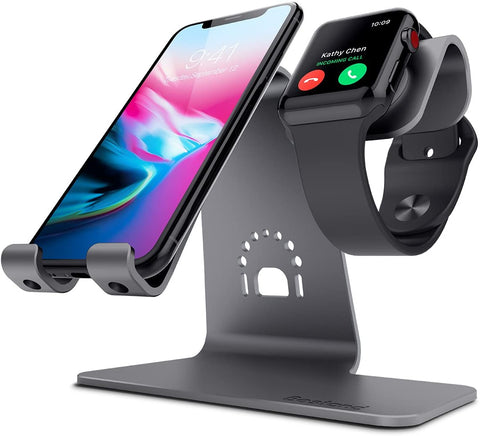 This Bestand iWatch Charging stand holer is a nice piece of work for iPhone, iPad and Apple Watch. It holds your device securely in place for recharging. It has an anti-slip rubber mat that offers the best protection, avoiding any scratches and scrapes. This charging dock is well organized for all kinds of smarpthones, tablets other than your Apple watch.
4.
Mercase Apple Watch Stand, Night Stand Mode iWatch Charging Stand Bracket Docking Station, $15.99
This charging station is also a multi-purpose product that can charge your Apple Watch and smartphone simultaneously. It can hold your watch and smartphone vertically and horizontally for charging. Made of aircraft grade aluminum, it's robust and light in weight. Plus, it has perfect cable management so that you can charge your devices without the hassle of cables.
5.
Official Apple Watch Magnetic Charging Dock,  $79.00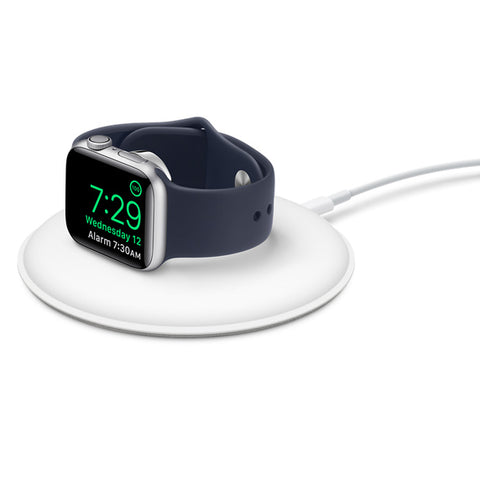 The charging dock from Apple official is something you can totally trust. It has a unique design like a plate, which enables Apple watch to be charged in a flat position. When docked on its side, Apple watch automatically goes into Nightstand mode. It can also be used as an alarm clock.