Suppose you have a plan for hiking in the desert, all you need to pack would include some essential items, such as a life-saving bottle, an outdoor-friendly backpack, sun cream, a travel towel, mosquito repellent, first aid kit et cetera.

However, as a backpacker on the road, you would feel like being totally relaxed, you would hate heavy burden on your shoulders. Thus, a simplified backpacking checklist is needed for your happy hours outside. People might have different ideas on whatever content in a certain list. This backpacking checklist  is merely a recommended version. Actually you can have your own list depending on what kind of places you are heading to. Let's focus on the desert. What would we need to pack for a desert adventure?

1. A First Aid Kit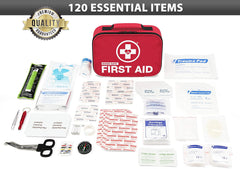 Better safe than sorry, a first aid kit is the top essential you should put in your backpack. Check out one of the most typical first aid kit on the market. It almost contain everything you might need in case of an emergency: alcohol pre pads, all sorts of bandages, antiseptic cleansing wipes, disposable PVC gloves, disposable instant ice pack, first aid tape, compass, moleskin blister relief, emergency mylar blanket, metal scissors and so forth. Such a first aid kit ensures a safe journey for you.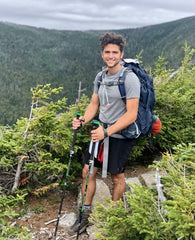 A backpack bag for carrying all your items for a desert adventure should be lightweight, simple and most importantly, large enough to store everything. We recommend Osprey's Atmos 65 AG which does its job well in backpacking thanks to a practical and comfortable design, particularly in the frames and the AG suspension. The entire back panel together with the waist belt makes it able to load up to 40-45lbs. Other than that, it also contains multiple user-friendly pockets available in case of need.


3. A Survival Straw Water Filter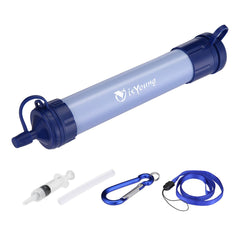 A water filter acts as a life-saver especially when you are hiking in a desert. This isYoung survival straw water filter can filter up to 1500 liters of water because of its large capacity. It effectively eliminates harmful contaminants, bacteria, heavy metal ions, chlorine, volatile organic coumpounds etc. This filter can remove 99% waterborne bacteria to make sure it's a safe chemical free product for emergency water drinking.
Never let your adventure become a nightmare. Even thought you have your mobile phone with you, you'll always need a fallback plan. What you need is an emergency phone that you can use for connection to the outside world. AT&T SpareOne Emergency Phone helps you easily connected with others for an emergency situation. It's powered by 2 AA batteries, get them prepared and don't need to charge the phone. To be more specific, it is able to locate and alert for emergencies, and also glow in the dark as a flashlight for panic siren and SOS signal.

5. A Windbreaker Jacket

You would suffer strong wind with flying sand when you are walking in the desert. Getting a windbreaker jacket to keep yourself safe and sound from the fierce wind and sand is necessary. This Sandbank windbreaker jacket is made of 100% pure polyester with zipper closure and water-repellent feature to keep off light rain. It has rib-knit collar cuffs and hem, button-flap side pockets etc.  

6. A Solar Power Bank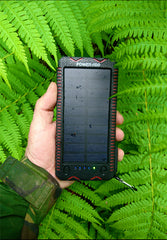 Compared with these must-have items, you would also like to use your smartphone or tablet very frequently during the tour, so you will eventually want a solar power bank in the wild. Among the best solar battery chargers you can find on the market, this upgraded Poweradd Apollo2 solar charger is a typical choice for you. It's equipped with a 12000mAh high battery capacity. The waterproof, dustproof solar battery pack is a great helper in the desert area. It absorbs sun light easily and turns it into electricity rapidly. You can always enjoy using your cellphone or other USB devices while you are hiking out there. Besides, its super bright double-LED flashlight is another impressive highlight.