Earlier this year a study in the USA on Power Bank Market by Capacity Range reported an increase in the development of power banks with capacity 9500–12499 mAh, 12500–15499 mAh and above 15500mAh. Now a new market research adds to the evidence of the increase in the need of high capacity capacity among power bank users in the USA.

Power banks with a higher capacity are more likely to win the favor of the majority of people. A survey was carried out on a regular basis to see when they would consider a high capacity power bank, such as over 10000mAh power banks.

An overwhelming percentage of a group of approximately eleven hundred power bank users have given a straightforward answer that it's the high capacity mobile devices that call for a reliable high capacity power bank. And another reason could be that they are using smartphones and tablets much more frequently than ever before.

This explains what's shown in the study that the power bank market is expected to be valued at USD 25.16 billion by 2022. With this surprising growth driven by the increasing usage of electronic devices and technological advancements, we gradually start to have a good grasp on what kind of power banks to be chosen to charge our devices most perfectly.

The following power banks that quickly charge your devices have been recommended as good examples of high capacity power banks on the market.

1. EasyAcc 20000mAh Rugged Outdoor Power Bank

EasyAcc 20000mAh Power Bank is a brand new weatherproof design that effectively resists water, mud, dust and accidental shocking, thanks to an IP37 rating and rugged design, when using outdoors. The 20000mAh rechargeable lithium battery pack can give an iPhone 6S seven solid charges. Other than that, it works perfectly as a multi-functional battery pack that can be also used as a flash light and SOS light.

2. Poweradd Pilot Pro 32000mAh Power Bank

Poweradd Pilot Pro 32000mAh Power Bank is a great high capacity power bank with two USB ports for all 5V USB devices and one DC output port for your laptop. It comes with a great variety of laptop connectors for you to charge different laptop models effortlessly. It has a sturdy aluminum casing that ensures durability and good heat dissipation. This safe power bank will automatically turn itself off for protection when it's getting too hot or overloading is happening.

3. EC Technology 22400mAh Power Bank

This power bank has 3 USB charging ports, 2.4A port for iPad, 2A for Samsung Tab, and 1A for iPhone, to charge 3 devices simultaneously. Safety is totally guaranteed due to the reliable lithium-ion battery cells built in. Despite 22400mAh high capacity, this power bank has a portable small size,  6.2 x 3.1 x 0.8 inches. It has smart LED indicators, like most power banks.

4. ExpertPower 20000mAh Ultra High Capacity External Battery

ExpertPower 20000mAh Ultra High Capacity External Battery is able to keep your smartphone and tablet always charged up by the high capacity and quick output speed, 5V 3A in total. It has a compact size for you to hold in hand easily. This pocket-friendly portable power bank makes it easy to charge your devices anywhere anytime on the go.

5. MAXOAK 50000mAh 6 Port(5/12/20v) Portable Charger

This power bank model is a real monster that's particularly designed for most popular laptops and notebooks because of the incredible high capacity 50000mAh and 6 ports available. The 20V 3A port is for laptops, 12V 2.5A port is for digital cameras, the rest of the ports are mainly for smartphones, iPad and other USB devices. It features 1000+ recharge cycles for great longevity.

6. Anker PowerCore 20100 - Ultra High Capacity Power Bank

Anker PowerCore 20100mAh power bank, based on Anker's advantage, can charge an iPhone 7 almost seven times, which partially shows off its charging capability. With Anker's PowerIQ and VoltageBoost technologies, it can make quick charges happen without doubt. Yet it takes 10 hours around to get itself fully charged beforehand with a 2A charger. The Anker 20100mAh portable charger has good protection against any charging issues.

7. RAVPower 22000 Portable Charger

RAVPower 22000 Portable Charger is known for its high capacity 22000mAh and high output for 3 devices to get charges at the same time. The 3 USB ports feature total output current 5.8A. It has a typically marked iSmart 2.0 technology to charge your USB devices surprisingly fast, but it doesn't support Qualcomm Quick Charge. This high capacity power bank has a quick input port design, 5V 2.4A, which is believed to save up to 60% of your charging time compared with similar products.

8. Poweradd 26800mAh 100W USB-C PD Laptop Power Bank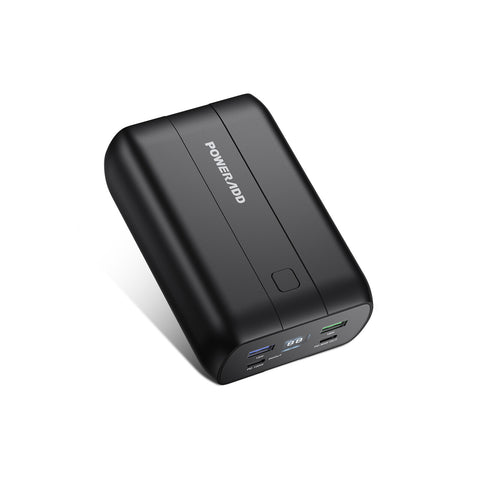 Poweradd 100W Laptop Power Bank keeps things simple, compact and reliable, which is really all you want from a laptop power bank you want to travel with. At 1.5*2.7*4.5 inches and 26,800mAh, it's Mini size and Large Capacity. Combine that with its 100W power, you get a power bank that could actually charge your laptop. It provides up to 100W, so it can easily power up your Mac and every other device. It even has an easy-to-read LCD display to let you know just how much juice it has left.

More importantly, unlike other so-called laptop chargers out there that fail to work at times, this one's incredibly reliable, capable of charging your laptop every single time. And, that's while charging your other portables as well with its 4-port selection. And the best thing is that it is not as heavy or bulky as one might expect. It is not light(18.5 oz), definitely, but compared with other options it is acceptable. Best yet, it's under $100, cheaper than most of the offerings on this list.

If you're looking for a portable laptop charger that gives you the best value for your money, you've got a winner here.