Poweradd Apple Watch Magnetic Charging Cable 1M Length Pocket-Friendly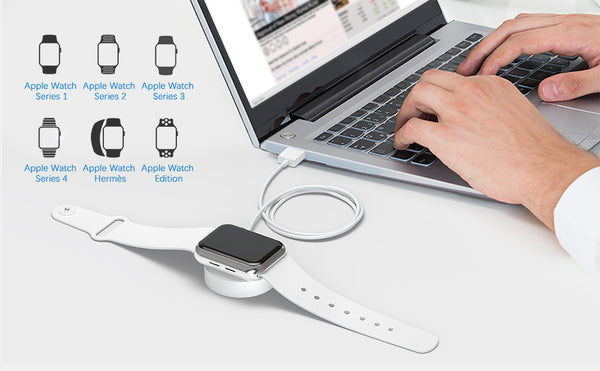 Durable Magnetic Charging Dock: With a good quality build, high-temperature resistance, and shock absorption.
Bigger than Original Charging Dock: You can easily dock your Apple Watch with strong absorption. It holds your Apple Watch securely with a strong magnet.
Perfect Length: 3.3 feet Apple Watch charging cable allows easy connection and perfect compatibility.
Apple Certified Cable: Apple MFi Magnetic Charging Cable for Apple Watch, compatible with all Apple Watch models, 8mm and 42mm.
Portable Apple Watch Charging Cord: Convenient to carry around with lightweight and compact design.
 
Apple MFi Certified Apple Watch Magnetic Charging Cable
Poweradd Apple Watch magnetic charging cable features in well-made design with strong magnetic. This Apple MFi certified Apple Watch charging cable is easy to magnet snap into place automatically and perfectly compatible with all Apple Watch models. This is a pocket-friendly compact charging cable for your Apple Watch with a 3.3 feet cord for easy charging.
Product Specification:
Material: ABS+PC
Input: 5V/ 1A
Output: 5V/ 1A
Length: 3.3 feet(1meter)
Net weight: 36g
Working environment: -10℃~50℃
---
How long does delivery take?

---
Usually 3-7 business days.

What countries do you ship to?

---
US only.

How would PoweraddMall ship my order?

---
USPS and UPS are our logistics partners to ship out PoweraddMall products. we will choose the carrier that we think works best for our customers.
Can I change the delivery address of my package after it has been shipped out?

---
Unfortunately, we cannot change the shipment once the product is en route.
Any questions, please contact customer support at poweradddirect@gmail.com.
If you are having an issue with your Poweradd product and request a return or an exchange, we will try to solve your issue as soon as possible.
Please email direct to poweradddirect@gmail.com for your Return / Exchange request. Poweradd will promptly proceed with your request.