Poweradd USB C Charger 20W PD - You only need 30 minutes to charge iPhone 11 Pro Max to 50%.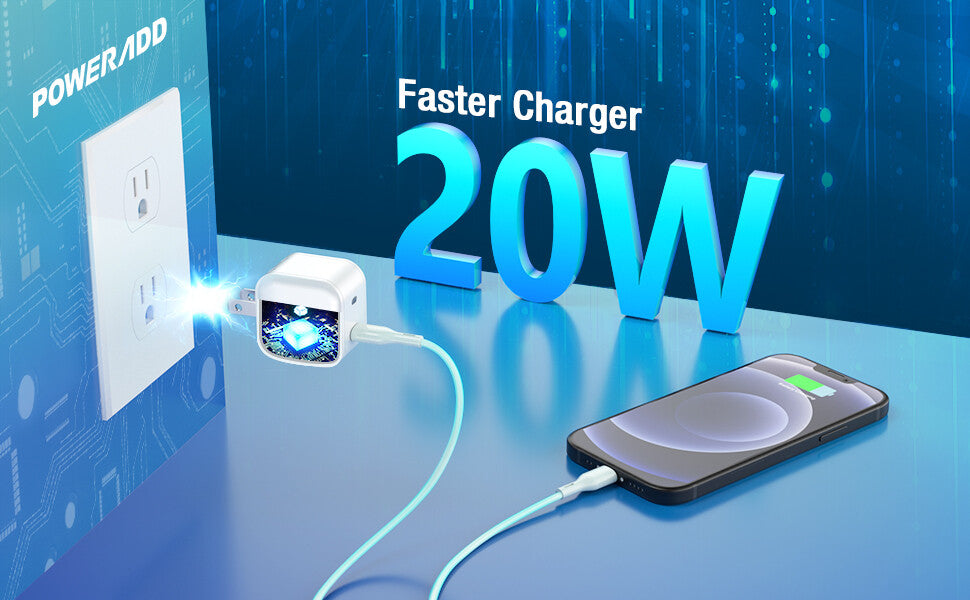 Shorten Your Charging Time
20W power delivery fast charge. The fast charger adapter detects the power of your USB-C devices, providing up to 9V ⎓ 2A or 12V ⎓ 1.5A output to shorten your charging time. Fast charger adapter could charge for iPhone X to 50% in 30min with a USB-C to lightning cable (not included).
Lightweight And Portable
Dramatically compact size. The coin-sized design allows this fast charger adapter to be easily packed in any pocket or bag. With a length of 1.1 inches and a width of 1.5 inches, this is ideal for business travel, travel, or daily use.
Safe And Secure
Safety guarantee. The built-in full protections of the fast charger adapter are able to ensure the safe charge for your devices, preventing over-heating, over-charging and over-current.
Widely Compatible
Widely compatible. Fast charger adapter fits all USB devices like iPhones, IPads, Samsung, HTC, LG, etc...
Specification
Size: 1.57*1.57*1.12 inch
Weight: 2.06oz
Input voltage: AC 100V-240V 50/60Hz.
Input current: AC 100-240V 50/60Hz, the maximum input current is 0.5A.
Type-C USB (PD): 5V3A/9V2.22A/12V1.67A
No-load output voltage: DC 5V(4.70~5.45V) / 9V(8.55~9.50V) / 12V±0.6V
Full-load output voltage: DC 5V(4.70~5.45V) / 9V(8.55~9.50V) / 12V±0.6V
Overcurrent protection: TYPE-C: 5V≦4A,9V≦3A,12V≦2.5A.
---
How long does delivery take?

---
Usually 3-7 business days.

What countries do you ship to?

---
US only.

How would PoweraddMall ship my order?

---
USPS and UPS are our logistics partners to ship out PoweraddMall products. we will choose the carrier that we think works best for our customers.
Can I change the delivery address of my package after it has been shipped out?

---
Unfortunately, we cannot change the shipment once the product is en route.
Any questions, please contact customer support at poweradddirect@gmail.com.
If you are having an issue with your Poweradd product and request a return or an exchange, we will try to solve your issue as soon as possible.
Please email direct to poweradddirect@gmail.com for your Return / Exchange request. Poweradd will promptly proceed with your request.