{ For all

$0.99

sales, Limited 10 per order}
1pcs, shipping fee $6
2pcs, shipping fee $12
…. …



If you purchase more than 10pcs, we will automatically cancel your order.
If you would like to purchase more than 10pcs, please place separate orders.
Estimated Arrival Time: Within 7 days (If you are in CA, you may receive it the next day.)
Poweradd C11 Wireless Earbuds, Bluetooth 5.0 Earbuds with USB-C Quick Charge, IPX7 Waterproof in-Ear Wireless Headphones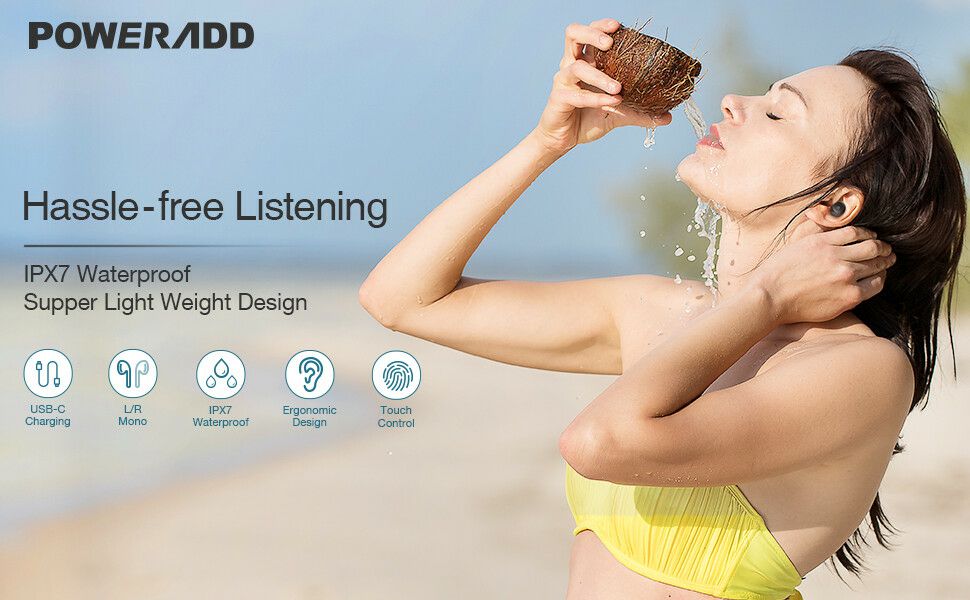 Bluetooth 5.0 & One-Step Pairing
The latest Bluetooth 5.0 with TWS technology on both Bluetooth earbuds, provides faster pairing, stable connection, and signal transmission. Only need to take out two earbuds or any single earbud after you open the Bluetooth function, they will open and connect automatically. Powerful Bluetooth 5.0 chip, perfect for windows, ios, and Android!
Long Battery Life
Single charging can maintain earbuds working 5 hours. The Charging Case provides 3 times charging for earbuds, a total of 30 hours of working time. You could charge your earbuds whenever and wherever you want.
Secure Fit
Features an ergonomic design, each wireless earbud only weighs 4.5 grams, ensures hours of comfortable wear and a snug-fitting listening experience.
Specification
Bluetooth version: 5.0
Power level: Class 2
Operating frequency: 2402~2.4800GHz
Headset battery parameters: Polymer 501015-50mAh/3.7V*2
Standby time: 120H
Talk time: 4H
Music playing time: 4H
Charging voltage: 5.0V
Headphone charging current: 40mA
Charging time:1.2H
Headset battery life:≧ 300 times
Bluetooth distance: ≧ 10 m(No obstacle)
Total weight: 48.6 g
Charging compartment:39.6 g
Headset: 9 g
Waterproof rating (charging compartment not waterproof): IPX7
Speaker diameter: 0.6cm
Frequency range: 20 Hz ~ 20KHz
Distortion rate: (AT 1KHZ 1mW): ≤ 5 %
Package
2 * Bluetooth Headset
1 * Earbuds Case
1 * TYPE-C charging cable
2 * ear caps
1 * Instruction manual
Mode Of Operation
1. Turn on Long press the left/right headset touch button 2S white light flashes 2 times and then goes out, prompting "Power On"
2. Power off Long press the left/right headphone touch button for 5 seconds, the white light flashes three times, the tone is Power Off.
3. Pairing Left and right ear pairing, left and right ear pairing is complete, automatically enter Bluetooth pairing mode, left and right white light flashing. The pairing is successful (with the phone), see the Bluetooth pairing name on the phone, click to connect with the phone, left and right ear white light is always on 5S later off, the beep connected.
4. Reset manually after switching off the phone, about one click per second, three clicks in a row, the white light stays on for about 2 seconds and then goes out, clearing successfully, the white light stays on for about 2 seconds and then goes out (the white light stays on for about 2 seconds and then goes out)
5. The white light will light up for about 2 seconds and then go out.


Here's a Review
Wireless earbuds for your choice:
1: S9 Wireless Earbuds Bluetooth
2: TWS 5.0 Q82 Wireless Bluetooth Earbuds With Charging Case
---
How long does delivery take?

---
Usually 3-7 business days.

What countries do you ship to?

---
US only.

How would PoweraddMall ship my order?

---
USPS and UPS are our logistics partners to ship out PoweraddMall products. we will choose the carrier that we think works best for our customers.
Can I change the delivery address of my package after it has been shipped out?

---
Unfortunately, we cannot change the shipment once the product is en route.
Any questions, please contact customer support at poweradddirect@gmail.com.
If you are having an issue with your Poweradd product and request a return or an exchange, we will try to solve your issue as soon as possible.
Please email direct to poweradddirect@gmail.com for your Return / Exchange request. Poweradd will promptly proceed with your request.